This is a NEW CUSTOM FEATURE we just developed that is very unique to our website!
LIVE VIDEO AUCTION SYSTEM
Click this ORANGE BUTTON below!
Want to join in on the bidding? Click the orange link above!
LIVE VIDEO AUCTION SCHEDULE
| LIVE VIDEO EVENT | LINK |
| --- | --- |
| 2023-09-24 12:00 Noon | LINK |
WHEN ARE THE LIVE VIDEO AUCTIONS??
We will announce a time and date (ABOVE) and you just drop by on that date and time if you can and join in the fun!
This will not be at the same time as our regular online auction, this will be on another day or at least at other times (we will see how it goes before committing to days and times).
HOW IT WORKS…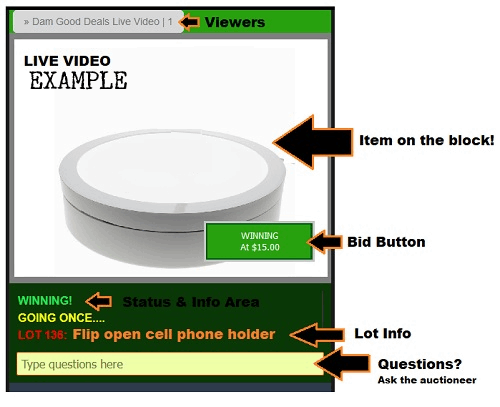 On the LIVE VIDEO AUCTION page your screen will look similar to this image. (To Visit Page Click Here)
This of course will be a LIVE VIDEO FEED with AUDIO as well as VIDEO, you will be able to ask questions by typing into a question box, all registered members can see a BID BUTTON that appears GREEN when you are WINNING and RED when you are OUTBID or NOT WINNING. The area around the video will also show RED or GREEN to really emphasize your current bid status.
It now has live COUNTDOWN TIMERS that control the time and closure of the auction lots. It will show GOING ONCE, GOING TWICE and FINAL WARNING before the auction is closed as well as SOFTCLOSE if a bid is placed in the last 20 seconds.   Then once all bidding stops a winner declared.
Will have a live clerk moderating, entering descriptions and helping with questions and someone placing the items for the camera and controlling the cameras and audio video system.
It's just like a real live auction but you can be at home and enjoy, the button is your bid paddle and the computer will log the very first person to press the button each time the price is updated with a new bid (Everything is logged as well). We do also try to make it entertaining.
We are DEVELOPING this software from scratch, it is BETA meaning it may have bugs.  We log everything and address any glitches or bugs after the auction is over.  Once we have a ALPHA system that we think can handle higher volumes of bidders we will expand the live auctions and open them at different times.  Please DO NOT expect the software to be perfect, it is a work in progress.
We appreciate your feedback, suggestions and help above all in helping us develop this new software.